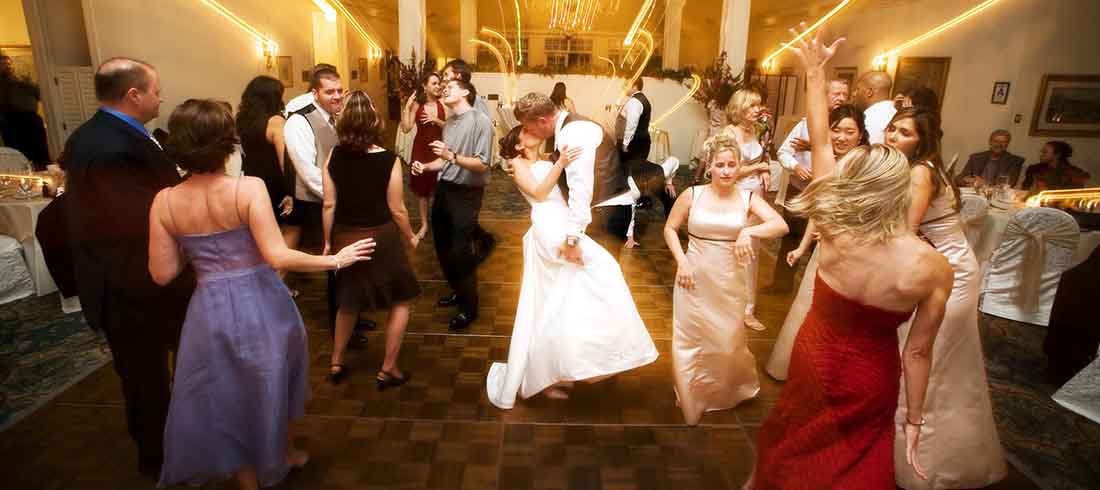 The 10 most critical things you should know about hiring a Wedding DJ.
By Jay Frank – Crestline Entertainment, Inc.
Is your DJ Company trustworthy and conscientious? Beyond the reviews, surveys or testimonials. Look to sources like the Better Business Bureau.  BBB members are subject to an intense examination process and must pass rigorous tests, scrutinizing details and in-depth analysis of their business practices before attaining membership.  Remember also to check the BBB for complaints and resolutions. Click here for the Chicago & Northern Illinois BBB
Is what they are charging really worth it? The definition of value is measured by the relationship between prices charged and services rendered. Factors include complexity of the function in relation to details, variations on sound system components, dance floor lighting options, attention to details, specific song request fulfillment, level of DJ involvement and master-of-ceremony skills.  A DJ's commitment to these elements, plus the talent in prescribing the right mix of music for an event largely determines their overall worth.  Bottom line, it's not the tools, but how their used that makes the difference.
Will your DJ have the knowledge base, desire and raw passion your event requires? Like an artist that uses acquired knowledge and style to influence their paintings, the same is true with DJ's regarding the results they achieve. This is critical. Anyone can download music and have your tunes available, but how they're put together is the "art" of the profession. DJ results can only be supercharged by music knowledge and passion for success. Can guests easily follow along where the DJ is leading them?  Is the DJ keeping up with the group or holding them back?  What ideas does he have to re-invent or re-energize a crowd?  Can he think on his feet and improvise if something goes not as planned?
The 10 most critical things you should know about hiring a Wedding DJ. (continued)
Reviews are great, but how can I effectively judge a DJ's talent? Remember that even fast-food restaurants can amass five star reviews, so reviews are only as good as the services you are comparing. If you've only had hamburger, how can you compare that to steak? Start now by meeting your DJ.  Get to know them personally.  See video samples of their work and not just footage of people dancing.  What is their plan of attack to work your party?  What makes them uniquely qualified?  You've spent hours choosing the right place, the accoutrements and the guest list.  Take time to make your DJ decision a good one, not a disappointment.  Avoid decisions made by generalizing, assumptions or last-minute convenience.  The small amount of time spent interviewing your DJ is an investment of time well worth the effort.  Don't make this critical decision by assuming you know the answers to these important questions.  You will likely regret it.  While DJ decisions seemingly impact more than just few hours at an event, they will be the subject of constant scrutiny from family, friends and co-workers. You have one chance to make it right.  Let your prospective DJ prove to you why they will make your event successful.
How can I be guaranteed my DJ choice?  Another critical point; DJ agreements should be always written for personal services. Be wary of those who will determine your DJ "at a later date". Would you entrust the care of a child to someone who would "be determined" at a later date?  Absolutely not and your party is no exception.  It's that simple, no "party-molesters" allowed.
What should I know about Sound Systems? Did you know corners can be cut which could adversely affect the quality of your music? Plain and simple, 2 speakers are not enough for most events.  Even with small events, the greater the volume, the more likely sound will be distorted.  To reproduce sound with quality and fullness, sub-woofers (a.k.a. Subs) are a must.  Consider home theater systems or live sound as prime examples. While Subs are more effort and expense for a DJ, the benefits are compelling.  You will hear great quality sound with no more shouting by guests across tables.  Offer your guests plenty of reasons to stay and enjoy themselves.  Insist that your DJ brings subs!
The 10 most critical things you should know about hiring a Wedding DJ. (continued)
What if your DJ is sick or can't perform? Ask your DJ to explain what plans they have in place for emergency replacements. Can they find suitable substitutions for last minute emergencies or extenuating circumstances? Will their agreement have a provision for them to do so?  No one with just cause would want their event to be further compromised by not getting a suitable replacement on site as quickly as possible.  DJRN DJ Association
Is Backup Equipment available onsite for every event? Regardless of the event's significance, a contingency plan for all equipment failures is a must at any event. Whether the failure is sound gear or computer related, time is of the essence and a reliable, trustworthy service understands this.  DJ's should be in the business of making your party rock, without interruption, without with minimal interruptions and no excuses.  Therefore, onsite backup equipment for all critical components is a must.
The truth about DJ's and Insurance. DJ's come in three varieties owners, employees or sub-contractors. While policies typically cover owners and employees, you need to be protected against injury claims or property damage caused by them.  Separate policies exist for DJ sub-contractors and should be considered as "must-haves" by any DJ company who uses them.  However, each and every company makes its own rules, so "buyer beware".  Statistically speaking, more DJ owners use sub-contractors (rather than employees) whenever they themselves are already booked for a date and are selling DJ services to you.  While that may be alarming to hear, many advantages exist for both DJ companies and consumers in using sub-contractors.  A few of the examples are as follows.  Sub-contractors are bound by signed agreements and are "legally bound" to complete the work.  They also must have liability and property damage coverage, while the general contractor (by Illinois State Law) must have "workman's comp" insurance.  Legitimate businesses know that both contracts and insurance coverage are not options.  Which would you rather have, a sub-contractor bound by law and covered by insurance or DJ employee who walks off the job the night of your event, after a tiff with management?  With ego-driven employees, and magnanimous bosses, the latter happens more than you think.
The 10 most critical things you should know about hiring a Wedding DJ. (continued)
Computer or Compact Disc based services — which is best?
At the beginning, slower computers and storage space limitations restricted computer jocks to largely using weakly recorded 128kbps rated MP3's created for Ipod's and later on, smartphones.  Once dominate, Compact Disc DJ's had ruled in sound quality, provided they were careful with their music collections.  Today, songs can be mastered at 320kbps (or even higher) rivaling CD sound quality. Other advantages include faster access to music, greater selection and NO skipping. — The future is now!  Are you and your DJ ready?
We hoped you've enjoyed The 10 most critical things you should know about hiring a Wedding DJ.
If you'd like to know more about how Crestline can help you with your DJ decision, please give Jay a call at 630-766-9898 to set up your free, no-obligation consultation today. 
Ipod is a registered trademark of Apple, Inc.  Opinions expressed herein are strictly those of the author.
Copyright 2017 – Crestline Entertainment, Inc. – 630-766-9898  www.CrestlineDJ.com
(No portion of this blog post may be copied, disseminated or used in any way without permission — all rights reserved.)